The city of Greater New York was created in 1898 when the cities of New York (and its existing absorbed suburbia in the Bronx) and Brooklyn, various towns in (the west half of the old) Queens County, and the farmland and villages of Richmond County merged. Even though Manhattan had less than half the total population, it was running the show, and local autonomy mostly disappeared never to return.
Brooklyn's city hall was renamed "Borough Hall" in a preliminary act of New York superiority. The real offense came later. The nineteenth-century city hall buildings were too small for modern bureaucracy and office buildings were built, first in Manhattan and then in Brooklyn.
Manhattan's Municipal Building, completed in 1915:
Brooklyn's Municipal Building, completed in 1924: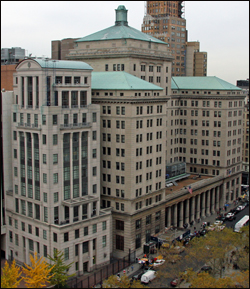 M to B: You get one just like ours, only smaller!